Best Free VPN For Firestick
Advertising Disclosure


Many or all of the companies featured provide compensation to us. These commissions are how we maintain our free service for consumers. Compensation, along with hours of in-depth research, determines where & how companies appear on our site.
Advertising Disclosure: Many or all of the companies featured provide compensation to us. These commissions are how we maintain our free service for consumers.  Compensation,  along with hours of in-depth research, determines where & how companies appear on our site.
Amazon and Fire TV Stick is a mobile plug-and-play device that enables people to watch their favorite media on television. The device allows users to have on-demand access to streaming services, such as Amazon Prime, Netflix, and Hulu. Besides that, the Android-based Fire TV OS has become a favorite among Kodi users.
However, people face many problems when they try to access that content from abroad. Most of them are unable to watch what they want because the majority of the content gets blocked due to geo-restrictions. Video libraries are privy to license agreements.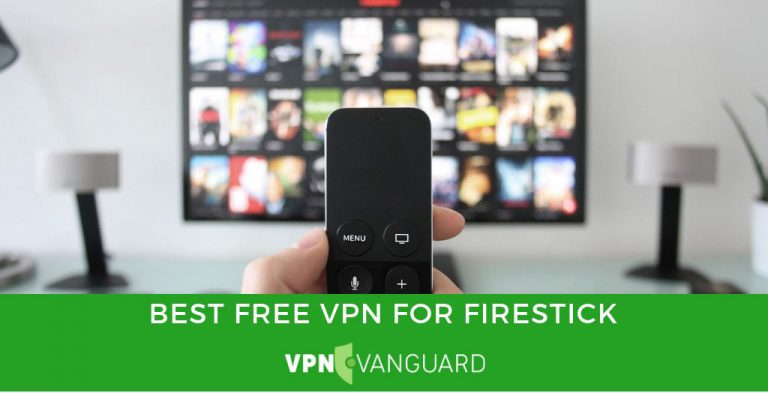 As a result, users living outside countries that have licensing rights don't get to access channels on the Firestick. Local sporting events also face restrictions and get blacked out due to exclusive broadcasting rights. Moreover, Kodi users who stream from popular add-ons also need to hide their activity from ISPs every now and then.
Things look bleak for most Fire Stick users who have a desire to watch quality content on their TVs. However, users can avail all of these services by incorporating a VPN service to their Amazon Fire Stick. In this article, we will discuss which are the best free VPNs for Amazon Fire Stick. But before we carry on with the list of best VPNs for Fire Stick, let us discuss what VPNs are anyway.
Today, billions of records (including phone calls) are recorded every day. Cybercriminals started using personal information available online to steal from and con individuals. The current state of user privacy only leaves us with the need to restore our privacy as much as possible using tools like VPNs.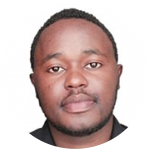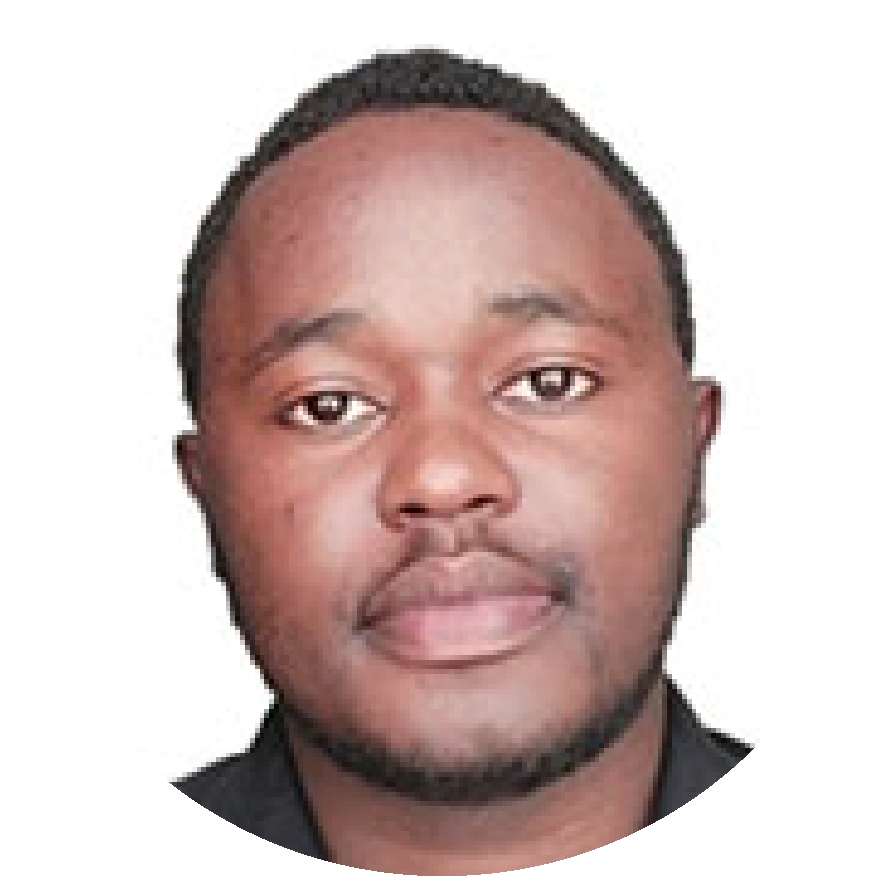 Cyber-Security and VPN Expert
Advertising Disclosure


The information we provide you is free of charge and a result of extensive research by our product experts. We use affiliate links in our site that provide us with referral commissions. While this fact may not influence the information we provide, it may affect the positioning of this information.
30 Days Money Back Guarantee
30 Days Money Back Guarantee
30 Days Money Back Guarantee
30 Days Money Back Guarantee
30 Days Money Back Guarantee
VPN stands short for a virtual private network; a VPN service can encrypt the Fire TV's internet connection and reroute it through a remote server. Below we will shed further light on how a VPN can help Fire Stick users.
The main function of a VPN service is to hide a user's IP address and replace it with a completely different one. By using a VPN service, users can hide your actual location as well. This helps users to access geo-blocked content anywhere in the world.
The Best Free VPNs for Fire Stick
A VPN service can benefit Amazon Fire Stick users in several ways. Here is the top five-way Fire Stick users can benefit from a VPN service.
Online Surveillance
Regardless of whether we believe in mass surveillance or not, the Government, our ISPs, and even third parties participate in online surveillance. Everyone one of us has heard about people getting tracked and the government actively spying on its population.
It is rather unsettling to know that we can get monitored by the same devices our lives revolve around. ISPs, government agencies, and third-parties make attempts to peep into our data and monitor our behavior through our online activity.
Some of these entities have the power to use our devices as a virtual window to know what we're doing. Doing so is not that easy, but it gets a lot easier after someone is able to find out your IP address
A VPN can protect you from these incursions. The VPN service will mask your original IP address and tunnel your online activities through one of its anonymous servers. If you're using a high-quality VPN service, its encryption algorithms will be strong.
As a result, it will be nearly impossible to track your online activity and know what you are doing. However, users must only use an encryption technology that's able to withstand the strongest of cyber attacks.
ISP Throttling
As we've discussed before, our online activities get monitored all the time. However, our Internet Service Providers are the ones who monitor these activities the most.  They can see when we use streaming apps such as Titanium TV, Cinema APK, Kodi, and CyberFlix.
Personal privacy is not the only problem here. ISPs are known to throttle internet connections of users that stream too much video online. This isn't a problem for regular users. Still, it affects users if they overuse streaming websites.
ISPs employ throttling as a tool to cut down the speed of streaming users and prevent them from using too much bandwidth. They do it balance their loads when the traffic in their service is higher than they expect. You can't sue your ISP for throttling your speed because it's legal for them to do so. You can even find it inside their Terms of Service before you sign up.
A VPN service can help you overcome throttling by your ISP. While you use your Fire Stick to stream your favorite content via VPN, your online activities will stay encrypted. If your data is encrypted, your ISP will have a hard time telling if you're streaming or not.
If the ISP doesn't know that you're streaming, it won't be able to penalize you for streaming as well. As a result, the ISP will not throttle your internet speed, and you will be free to enjoy your favorite content at buffer-free speed.
Geo Restriction
It's true that we can access popular streaming services such as Hulu, Netflix, and Amazon Prime on Fire Stick. However, the availability of content to you mainly depends on where you are right now.
Users can only watch content that's available in their geographical location. For example, the world's most popular website: Netflix is available in more than 180 different countries. Yet a great number of popular series are not available everywhere because of geo-restrictions.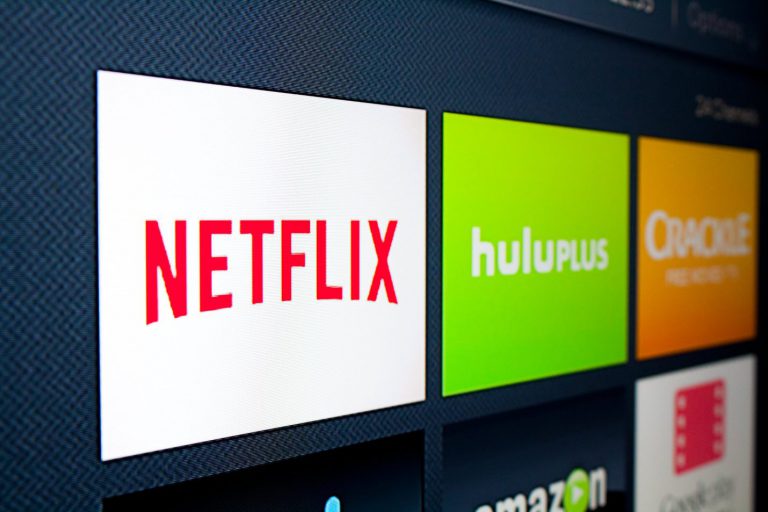 Netflix implements these restrictions when they don't content distribution rights for a certain video. As a result, people living in these foreign countries get deprived of excellent entertainment just because it isn't allowed in their country. Moreover, this problem doesn't exist only with Netflix. The majority of popular entertainment services have geo-restrictions on their content.
However, a quality VPN service can easily bypass these geo-restrictions and unlock content on your Fire Stick device. A credible VPN service will have located across dozens of countries. Users only need to select a server from the country where that content is available. After that, you only have to sit on your couch and watch your favorite videos.
Legal Hassles
Fire Stick allows users to set up Kodi and other third-party streaming services such as Mobdro and Cinema APK. These services are great because they give us free access to content, which we'll have to pay otherwise.
However, it's possible that some users end up streaming copyrighted content by mistake. Even if the watching copyrighted content was unintentional, it could still land you in hot waters. Some countries have stringent policies regarding using copyrighted material. As a result, streamers can get served with legal notices and large fines.
Fire Stick device users are frequent targets of these authorities and get served every now and then. However, a VPN service can protect these users from legal implications by masking their activities. When users stream content on Kodi via VPN, they don't leave traces of anything personally identifiable. A VPN ensures that users can stream their favorite content in complete privacy and anonymity.
Why Do Amazon Fire Stick Users Need VPN?
There are only a few free VPN services that offer separate applications for Fire TV Stick devices. Many of these VPN services are good. Some services offer exclusive VPN features and special bandwidth bonuses for certain users.
There are plenty of useful free VPN services that can Fire Stick users. There are VPNs like Hide.me and Speedify that also offer unique benefits to their users. However, they still have certain limits that prevent them from bringing anything useful to the table.
On the other hand, VPNs like Tunnel Bear and Proton VPN have decent services. You can trust these services because they follow industry-level standards. Only a handful of free VPN providers can match their services. Despite some of their shortcomings, they are useful options to have.
However, no other VPN service can compete with the free version of UltraVPN. The VPN service has everything a VPN user can wish for. We have reviewed dozens of VPN services before, but no other service stands out as the best free VPN for Fire TV other than UltraVPN.
As the name suggests, UltraVPN is one of the most advanced free VPN services. It has a suite of unique features that distinguish it from the rest of the competition. The paid version is a top-tier VPN; however, the free version itself isn't less than perfect. UltraVPN doesn't have any apparent faults and ticks all the right boxes.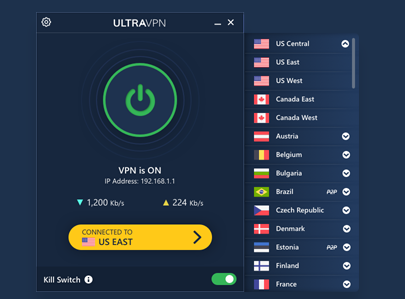 Interface & Ease-of-Use
UltraVPN has a simple yet classy interface. The VPN's interface has a dark theme, which is both clean and attractive. The VPN enlists important features upfront and helps users stay informed about the details of their VPN connection. UltraVPN also caters excellent user experience through its easy to use the app
Users don't have to submit their credit card information to use its free version. All you have to do to get started is to sign up to the service through your email. After that, you only have to switch the VPN on and start browsing what you want.
Platforms & Devices
UltraVPN is not restrained to a single platform. You can access secure browsing on every platform available, including Amazon's Fire Stick. People can even exploit UltraVPN's 6-device limit to use the application on various platforms. UltraVPN is available on these devices and platforms:
Windows
Mac OS
Android
iOS
Linux based operating systems
Smart TVs
Routers
Amazon Fire Stick
Advanced Encryption
One of the most features in a VPN is its encryption method. UltraVPN uses military grade protection for its connections. The 256-bit AES encryption algorithm ensures every bit of data in the VPN stays hidden from prying eyes. Due to its advanced encryption algorithm, the VPN can relay sensitive banking information in without the possibility of any leakage.
However, this also means that Fire Stick users can use the VPN to watch Kodi on their smart TVs. The VPN's compatibility with Fire Stick and smart TVs ensure that users don't have to compromise on their streaming experience.
No Logs
UltraVPN not only ensures that user data remains safe from prying eyes but also makes an extra effort in keeping your data private. The VPN service doesn't keep logs at all. It means that the VPN has no record of users browsing history. As a result, it's impossible to track users online movement regardless of where they are.
Exclusive Streaming Service
Popular streaming services like Netflix and iBBC Player have restrictions that prevent users from watching content outside their region. These restrictions discriminate users on the basis of their geographical locations. People expect that VPNs will be able to bypass these restrictions. But on most occasions, that's not the case.
Both Netflix and IBBC Player have special mechanisms that detect VPN servers that try to break these restrictions. This is why the majority of VPN services fail to break through these restrictions, even the paid ones.
However, UltraVPN distinguishes itself from other VPNs. The VPN service manages to bypass these geographic restrictions. UltraVPN follows its vision of making "Internet Without Borders" and lets its users access to content across different regions.
Users can install the VPN on their Fire Stick devices to watch premium services like Netflix and BBC iPlayer on their TVs. UltraVPN successfully breaches through the restrictions set up by both of these streaming services. Besides that, the VPN service makes it possible for you to see restricted content on HBO, Prime Video, ESPN, and Hulu beyond borders.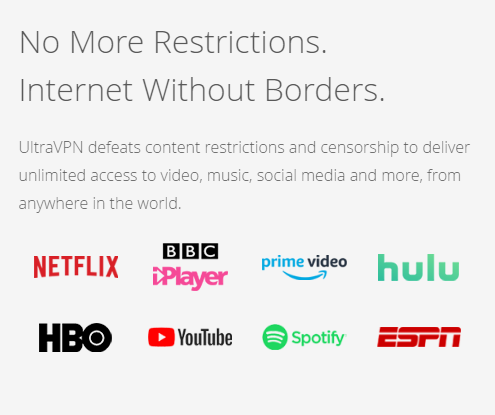 Speed
Streaming requires high-speed connections to ensure a buffer-free experience. However, most VPN services cut down speed and affect your streaming experience. Though it's because the VPN is trying to make our connection safe, it's annoying for users who have waited for their favorite content to upload. UltraVPN ensures that its users have access to lightening fast speeds.
Server Composition
People using the free version get access to 30 different server locations. This the most number of servers a free VPN provider allows its users. Most free VPN services don't make it double digits while providing a free service.
However, paid users to have the option of 55 different server locations. These locations are numerous and distributed across every continent.
It's Free!
The number of free features UltraVPN has is unprecedented. It has more features than other free VPN. What's interesting is that even some paid don't have as many features as UltraVPN. Users can unlock restricted content by using the free version. They can watch their favorite movies and TV shows without any problem.
However, like any other free version, it has some restrictions. UltraVPN doesn't allow access to all its locations. Users can benefit from the full version of the application at low prices. UltraVPN offers exclusive discounts to all its first users. The VPN service also issues a number of discounts to its users.
They can benefit from exclusive deals that give as much as a 70% discount. Moreover, they can cancel their subscription anytime. If the user isn't satisfied with the service and cancels within 30 days, they can avail 30-day money-back guarantee.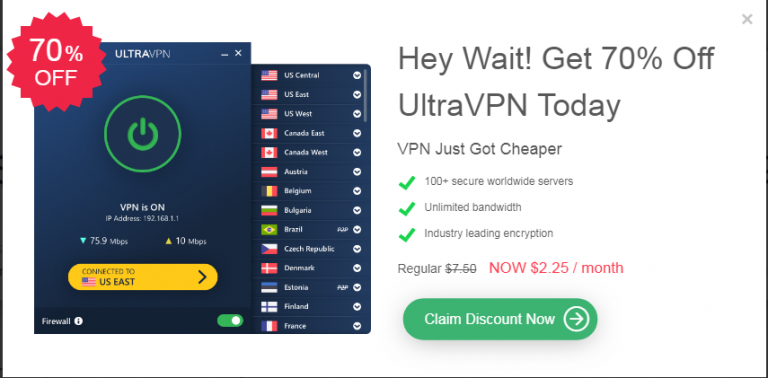 Premium Features
By availing the paid version of the application, users can benefit from an array of premium features. UltraVPN enables users to install anti-malware software in their Fire Stick devices. As a result, your device can remain protected from harmful software that can damage your device. Moreover, Fire Stick users can also get anti-phishing features for their web browsers.
It doesn't just there; among other new features, UltraVPN users will be able to benefit from Kill Switches. Kill switches are necessary for ensuring that a user's IP address stays hidden even when the VPN connection drops. This is crucial because it ensures that your identity doesn't get leaked in any circumstances. So, you won't have to worry about legal notices for watching Kodi.
Overall, Ultra VPN has the rights set of features to be the best free VPN for Fire Stick device. The VPN service lets its users access the internet in a fool-proof manner. It eliminates all kinds of logs and ensures that users won't have to compromise on their privacy. UltraVPN's premium features are second to none, and it is the best free VPN in our list.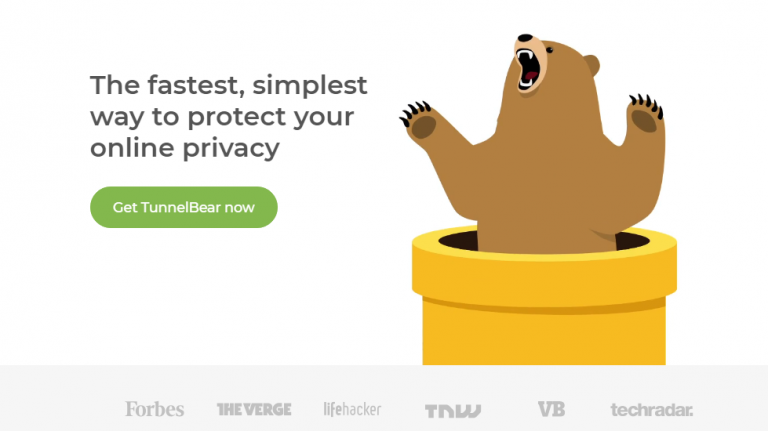 Tunnel Bear is one of the easiest to use VPNs in the market. It has a remarkable interface that looks rather cute. The VPN is extremely easy to use, and you won't have to face any problems while using it.
The reason why its interface looks so good is that it's simple interactive. Tunnel Bear has plenty of free features that set it apart from other free VPNs. The VPN has evolved since its acquisition by McAfee (which is a giant in the anti-virus industry). Tunnel Bear extends its services to both free and paid users.
Tunnel Bear has a considerable number of servers. The VPN has as much as 1000 servers across 20 different locations around the globe. In addition, it allows its users to connect as much as 5 devices on a single account. Therefore, users can connect the VPN service all their devices to their VPN account. In fact, users can also connect the VPN application to their Fire Stick.
However, Tunnel Bear doesn't provide the same number of free features as it did before its acquisition. Now the VPN has an initial data limit that's barely usable. Free users can only use a data limit of only 500 MB.
The free-version has decent features itself, but because of its low data limit, there isn't much you can do with that. Still, Tunnel Bear has a flexible set of paid plans that upgrade the quality of service. By getting paid plan, users can increase their data limit, the number of locations they can access, along with the number of connected devices.
Tunnel Bear has upgraded its policy regarding logging user data. Now, users won't have to input their first name while signing up. Moreover, you can use Tunnel Bear without bearing through annoying advertisements.
Despite some downsides, it still is a decent option to have. Tunnel Bear has excellent security features and ensures that no one is able to snoop on your data. Moreover, it has the support of one of the world's biggest security giants. However, if you need to surf your favorite content on Fire Stick, you will have to buy its paid service unless you only need 500 MB for streaming in a single month.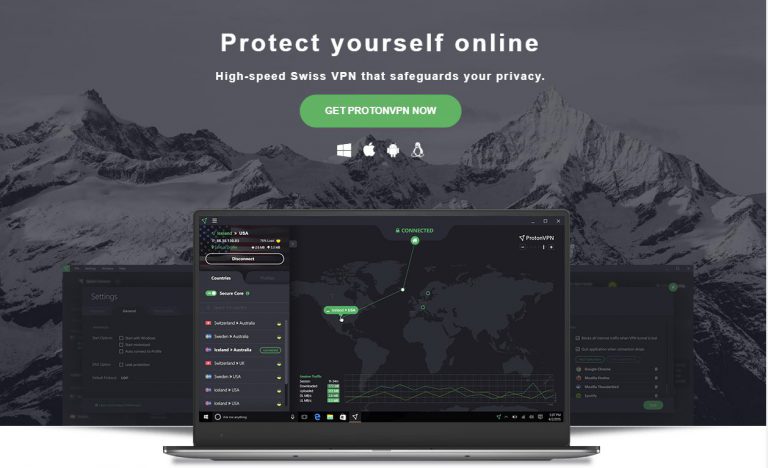 Proton VPN both paid and free versions to Fire Stick users. The VPN service is different from other free services. It differentiates itself from another VPN service by offering a limitless bandwidth to its users.
It means that Fire Stick users can use as much streaming as they like in a single month. However, Proton VPN has toned down other features in exchange for the free data limit. The VPN service did this to incentivize the paid version of the application. Free users can only use one device on a single application. Besides that, they cannot use more than three servers.
Proton VPN has also been criticized in the past for throttling the speed of free users. So, this might not be great if you were using the free VPN to escape ISP throttling. In addition to that, the VPN disallows torrenting in its free version.
However, if you have no problems with these restrictions, the free version follows a strict no-log policy. Another good feature is that it doesn't have intrusive advertising. Moreover, the application is neat & easy to use, and the sign-up procedure isn't difficult as well. Fire Stick users can sign up for service through their email IDs.
Besides Fire Stick and Fire TV, the VPN service is available on a decent range of clients. You can download the application on any of the following platforms:
Windows
Mac OS
Linux-based operating systems
iOS
Android
Overall, the Proton VPN is excellent performance wise but can be a little inconsistent in terms of speed. However, you won't face these problems if you're a paid user. Still, it's difficult to beat a free VPN service that offers unlimited downloading and streaming.
Speedify is one of the fastest free VPN services in the VPN market. As the name suggests, the VPN service prioritizes speed and makes sure that its users never face buffering issues. This is a great feature considering that most VPN services cut down on speed to encrypt your data.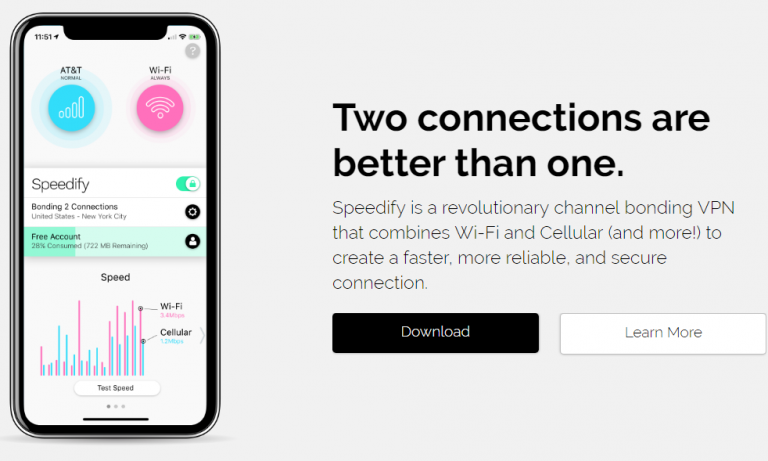 However, increasing the speed of a secure VPN connection is not easy. Speedify is able to achieve its goals by combining two simultaneous connections. In other words, the VPN combines an Ethernet connection with a tethered 3G/4G connection to surpass a connection's speed limit.
The company claims that its VPN can boost the connection speed even if the connection only has a single connection. Besides that, Speedify gives free users a bandwidth of 4 GB for the first month. However, users can only use 1 GB bandwidth after the first month.
Many people doubt whether Speedify is secure enough or not. The VPN doesn't have AES-256 bit encryption, which is the standard among top VPNs. Because of this, many people think that VPN compromises privacy and security for speed.
However, Speedify has one major downside; the VPN can't bypass geo-restrictions on Netflix and BBC iPlayer. So, getting the free version of Speedify to for streaming on Fire Stick won't help you.
The VPN is a decent option if you have minimal use of VPNs. The boost in speed will help you stream restricted videos from US YouTube more easily. However, you can't use the VPN to access your favorite TV shows on Netflix and BBC iPlayer, which sucks, to be honest.
How to Pick a Free VPN for Amazon Fire Stick
It always feels good to get something for free, but free items often have several downsides. Likewise, a free VPN will never be as effective as a paid VPN services. As we have discussed before, free VPN services have plenty of weak points. Some version throttle speeds of free users while others have small reduced servers and limited bandwidths.
Furthermore, many free VPN services don't follow standard encryption techniques and security mechanisms to safeguard user data. Since free VPN services are not charging you anything, the quality of service will be somewhat compromised.
Here are some of the factors you should consider before choosing a free VPN for Amazon Fire Stick.
Security
Weak security is a major concern with free VPN services. If you're thinking of getting a free VPN for your Fire Stick device, make sure that the VPN has advanced encryption such as AES-256 bit. The AES 256 bit method is still used by many high-security agencies and government organizations to encrypt private data. Moreover, it's an essential security standard in this age of cybercrime.
Besides strong encryption, a VPN needs a secure tunneling protocol. Tunneling protocols such as OpenVPN and IKEv2 are industry standards. These protocols ensure that users are able to transfer sensitive data through a safe channel that's both fast and secure.
Privacy
Fire Stick device owners must ensure that their VPN service doesn't keep any logs. A log-free VPN service ensures that your online activities are impossible to track. DNS leak protection and kill switches are also great privacy features, but it's difficult that you'll be able to find these features in a free VPN service.
Bandwidth
Free VPN services don't allow users the freedom to use it effectively. The majority of free services limit the bandwidth of their VPN to 500 MB, which is next to nothing if you want to stream movies. It's ideal to choose a VPN service that doesn't restrict your bandwidth.
Server Distribution and Speed
Distant servers are harder to connect to and offer poor speeds to free VPN users. Having multiple servers increases the possibility of having a server nearby. Moreover, it reduces the traffic load on a single VPN server.
Both of these things facilitate faster connections and higher downloading speed. Most free VPN services limit the number of servers you can access. It not only reduces your connection speed but also reduces your access to geo-restricted content.
When choosing a free VPN service for your Fire Stick, you must ensure that the VPN provides a decent number of servers to you. Doing so will ensure that you have stable and fast connections. Moreover, it will be easier to find your favorite geo-blocked content in a country.
The perfect free VPN for Fire Stick is the one that doesn't restrict your bandwidth; has advanced encryption & tunneling protocols, along with a decent number of servers. As far as we have seen, UltraVPN is the only free VPN that meets the criteria.
A premium service like UltraVPN will significantly improve your experience. The VPN can help you bypass geo-restrictions and unlock your favorite content on Fire Stick. The service is excellent if you can't afford a premium subscription at the moment. However, you can get premium features like kill switches, anti-phishing and anti-malware web browser for as low $2.25/month on an annual subscription.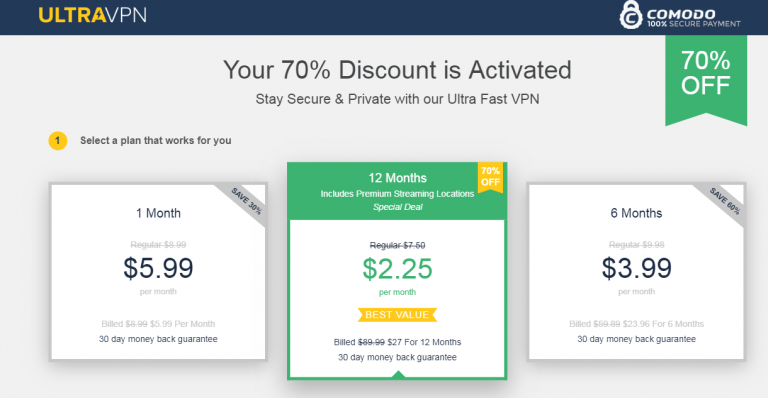 Protect Your Internet Browsing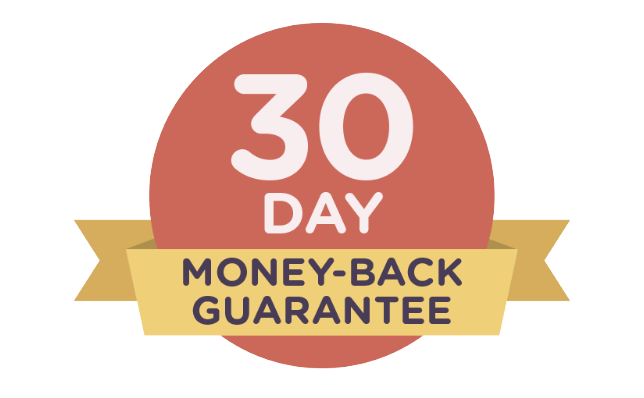 The information we provide you is free of charge and a result of extensive research by our product experts. We use affiliate links in our site that provide us with referral commissions. While this fact may not influence the information we provide, it may affect the positioning of this information.