UltraVPN: Detailed Test and Review 2023
Advertising Disclosure


The information we provide you is free of charge and a result of extensive research by our product experts. We use affiliate links in our site that provide us with referral commissions. While this fact may not influence the information we provide, it may affect the positioning of this information
The Internet can be a dangerous place. Every day hackers steal personal information from hundreds of thousands of unsuspecting victims. While it is important to have a good antivirus software package, this does nothing about formation as it is being transmitted over the World Wide Web. To protect your information as it is in route to its destination, you need a virtual private network, or VPN.
This review explores UltraVPN, which feet we feel may be some of the best VPN software on the market. This review examines the advantages and disadvantages of this virtual private network service.
A VPN works as a tunnel that your data must go through before reaching its destination. Before going out to its destination on the web, your information passes through a server where it is transformed into code using encryption technology. Even if someone were to intercept the data, they would not be able to make sense of it without the encryption key. This is how a VPN works. Let us now take a look at UltraVPN.
Over 100 servers in 55 different countries
Live Chat, email, phone, knowledgebase
P2P and Torrenting allowed
Military-grade 256-bit encryption
United States and United Kingdom
30 Days Money Back Guarantee
UltraVPN is an excellent service that we found to be fast and reliable. Now, let's dig a little deeper and take a closer look at some of these features and qualities.
UltraVPN was originally built for Windows systems. However, they now offer protection for Macs, iOS, and Android. It is available for the following Windows systems. 
It is also compatible with Mac Mountain Lion or newer.
It will work on iOS devices from iPhone 6 up to the latest version. It will also work on iPad as long as it is running iOS 8 or newer.
For Android users, you can easily find the software on Google Play. It is compatible with versions running everything from the most recent release all the way back to KitKat 4.4. It is compatible with a number of different Android devices including Samsung Note 9, P20, Google Pixel 3, and Huawei Mate 20 Pro. As long as your android device is at least running KitKat 4.4, UltraVPN should be compatible regardless of the brand of the device.
The next thing you may be wondering is how easy UltraVPN is to install. In this VPN review, we took the position of a brand-new user with very little computer or Internet knowledge. We tried to step back a little and put ourselves in the place of someone who had never used a VPN. We tried it on different devices. Here is how it went.
Your first step in the process is to go to the UltraVPN website and register.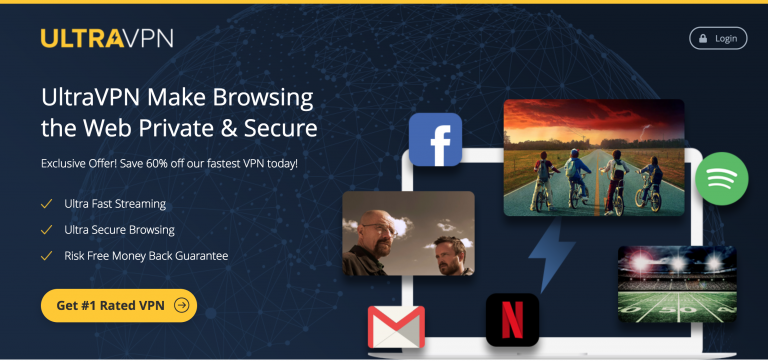 If you are on a Windows device, you will need to scroll down to the bottom of the page and click on "VPN for Windows." This will take you to a page that looks like this.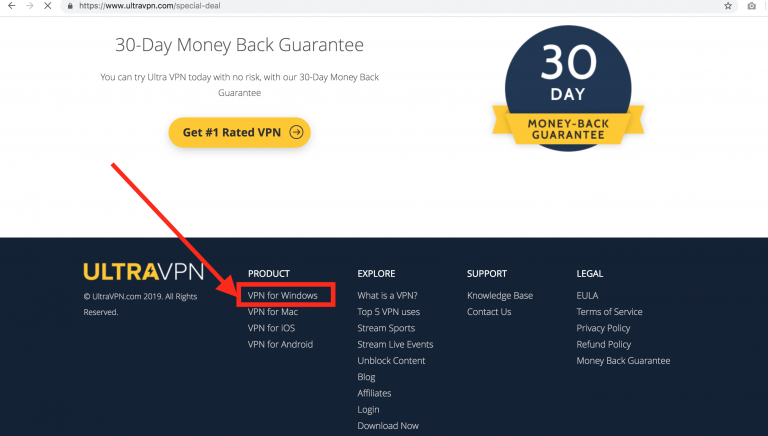 You simply click the yellow "Download for Windows" button and the download process will begin.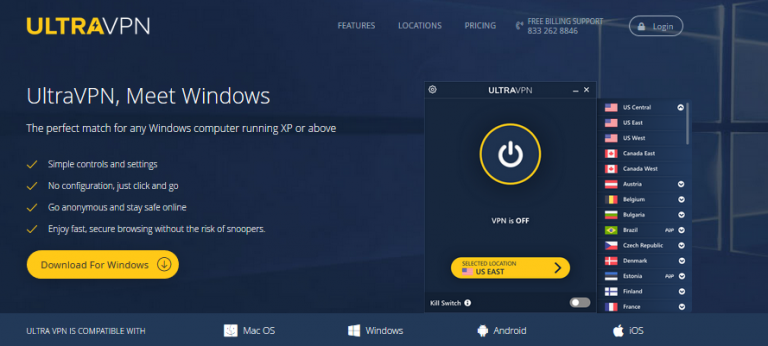 One thing that you want to be certain is that you are on the real UltraVPN website shown in the above image. If you are not, and you attempt to install it from a third-party provider, you run the risk of infecting your system with malware or agreeing to the installation of other software that you do not want. Make certain that you are on the real website before you begin your download.
The process may be different depending on your Windows system and version. Once the download is complete, you may have to navigate to where your computer stored this set-up wizard files. Simply click on this file and it will open. Next, a window will open that directs you through the setup process. Once you have completed this process, you're VPN is installed and ready to use.
The process is similar for those who are using a Mac. Scroll to the bottom of the page and click on "VPN for Mac." Please note, that as of the writing of this review, they are still working on adding the ability to download for Mac. Hopefully, it will be completed soon.
The same can be said for the iOS download. At the time of this VPN review, the ability to download for iOS is still being added so you will need to check back later if you are on a Mac or iOS device.
If you are on an Android device, you are in luck. You can simply go to Google Play and search for "UltraVPN." Once it comes up, the page will look like this.

You simply click on the green "Install" button and the download will begin. Once the download has completed, you will be prompted to open the program. From there, you simply put in your email and password and you can access all of the features of the VPN.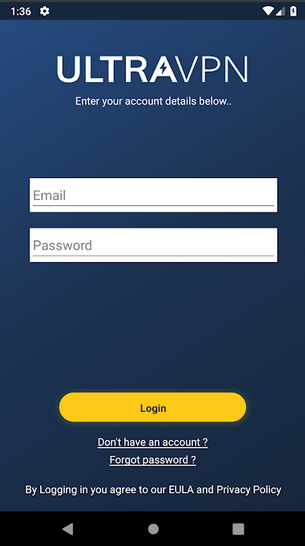 As you can see, the installation process for Windows PCs and Android devices is quick and simple. It would be easy for anyone to understand the process, even those who have little computer experience. Once the installation process is available for Macs and iOS systems, it can be expected that they will be just as easy. 
We liked the interface both on Windows and android systems. It was easy to see if the VPN was on and it was easy to understand how to switch servers, even if you have little or no VPN experience. We found that it was intuitive and did not take a lot of steps to perform an action. This is what we consider good design, especially for beginners.
The main reason for using a VPN is security and to keep your information private. Therefore, the ability of a service to provide the security that it promises is an important factor in this VPN review.
One important factor in the security rating is the logging policy. The logging policy refers to the information that the VPN provider stores about you and your activities online. In a perfect world, the best situation would be a VPN provider that stores no information, but unfortunately they must store some information to allow you to access the system.
There are different types of information that the VPN provider may collect about you. The most basic information is the VPN service data which includes your operating system and the apparition that you use. Another type of data is your connection data, which is a log of when you log into and out of the system, as well as how much data you upload and download. It will also need to store your original IP address. It has to know where to send the data to once it goes through the system. Another type of data that is collected is your online activity such as the searches that you perform, services that you use, and your browsing history.
The bare minimum that the VPN will have to collect is your service data and connection data. These types of information are relatively harmless and are necessary for the system to work. Many times, this information is bundled together with other users, so that no individual information can be linked to a particular user. This allows VPN providers to optimize their service and allow users to remain as anonymous as possible.
Where people get sensitive about their information being collected is there IP address and their online activity. This is where it is important to read the Privacy Policy carefully and know what information is being collected and how it is being used.
UltraVPN has a no logging policy and does not click your browsing history or information about your online activity. However, they do state that they will note the IP address of your device.
The regulation as to how this information can be used depends on the jurisdiction in which the VPN provider is located. They must adhere to the regulations of the country in which they live. In some countries, Internet service providers are required to store information on its users such as the email sent and websites visited. How and when they must release this information depends on the particular country. In general, the USA, members of the EU, and Australia are under the strictest policy to keep this information.
When you use a VPN, this information is encrypted and this can help avoid having your information collected by your ISP provider. A VPN provider that is located in a country that does not require the collection of such data will not be under an obligation to provide it to any other governmental agency. It is advantageous to use a VPN provider that is in a country that does not require logs. UltraVPN is located in the United States and the United Kingdom, which means that it is under these strict laws. However, UltraVPN claims that it does not even collect such information, therefore, it could not provide such information even if subpoenaed by court. It cannot provide what does not exist.
Advertising Disclosure


The information we provide you is free of charge and a result of extensive research by our product experts. We use affiliate links in our site that provide us with referral commissions. While this fact may not influence the information we provide, it may affect the positioning of this information.
30 Days Money Back Guarantee
30 Days Money Back Guarantee
30 Days Money Back Guarantee
30 Days Money Back Guarantee
30 Days Money Back Guarantee
30 Days Money Back Guarantee
30 Days Money Back Guarantee
30 Days Money Back Guarantee
30 Days Money Back Guarantee
30 Days Money Back Guarantee
Protect yourself from hacking and surveillance with 256-bit AES encryption, DNS/IPv6 leak protection, kill switch, and split tunneling.
HIGH SPEED, ULTRA SECURE, AND EASY TO USE. INSTANT SETUP.
The focus of many virtual private network reviews is on speed. No one will argue that speed is the most important factor in your experience when downloading, streaming, and using the VPN to access the Internet. However, we consider speed only one part of a number of attributes, which are discussed in this VPN review.
When it comes to testing for speed, there are a lot of factors, besides the VPN that can cause a slow connection. For instance, if you are running older hardware, or your system needs to be optimized, this can slow the connection. There may also be restrictions with your Internet provider that restricted band with or throttle or speed. These are factors that the VPN can do nothing about however, if you have a fast connection, you want to make sure that the VPN will not slow you down.
The system that we tested the VPN on is ultrafast, so any slowdowns in connections would be easy to see. The test were ran with the VPN on and connected, and with them off. We tried to connect to the same website and run a speed test to compare any slowdowns in speed. 
Depending on the server that we chose, we could get upwards of 65 or 70 mbps when the VPN was on.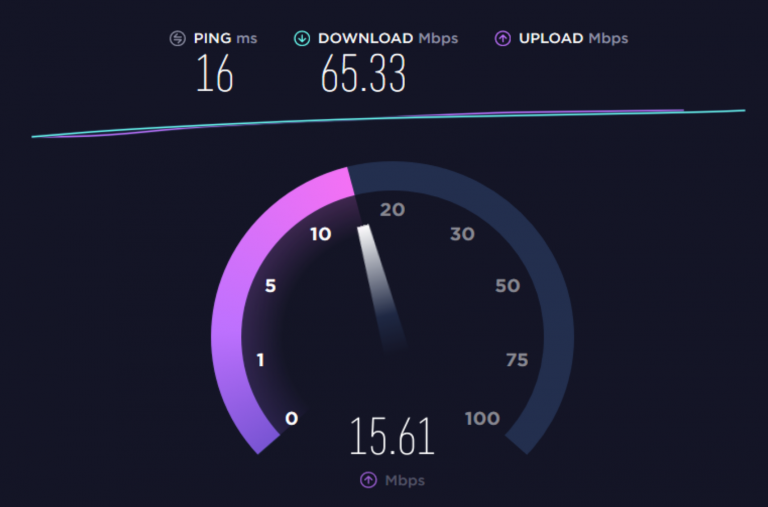 This is not bad and our experience was smooth and stable. Of course, when a server was becoming crowded, the speeds slow down. When this happened, it only took a few seconds to switch to another server. In terms of speed, no buffering, and reliability, this service worked as expected.
Another factor in choosing a VPN is how many servers they have and where they are located. There are VPNs that have a higher number of servers than UltraVPN, but this VPN provider chooses to focus on quality instead of quantity. It has servers located in 55 countries, including all major regions and many smaller locations. All in all, it has over 100 servers to choose from on a global basis. Of course, some are faster and slower than others, but we did not find any that were exceptionally slow, even when we tested those located where it is surprising that the Internet exists at all.
Customer support is another important factor for any VPN. One thing that we liked about UltraVPN is that they offer several different types of support. They can be reached by phone, email, live chat, and they have an extensive knowledge base. We found their customer server representatives to be knowledgeable, friendly, and highly professional. In this area, we felt that they exceeded our expectations.
One of the reasons why people like to use a VPN is because they can get content that they would otherwise be locked out of. This is not always for unscrupulous activity. For instance, if you have a US Netflix account and you are traveling in a different country, you may not be able to access your content. With the VPN, you may be able to access your US Netflix account from another country.
It may be noted that UltraVPN does not work in China. However, for the most part, we were able to access any of the content that we wanted. One site that we did have trouble with was the French Netflix site, but we were able to access Netflix elsewhere. We were able to access Hulu reliably too. Some BBC sites were difficult to access. However, if you play around with different servers, sometimes you can find one that will let you in. For the most part, we were pleased with the amount of sites and content that we had access to using this VPN.
30 Days Money Back Guarantee
One thing that sets various VPN services apart is there features. UltraVPN has several features that we liked. For one, you can connect up to three devices at the same time. They support OpenVPN and AES-256 encryption. This is the same type of encryption used by the US military and larger corporations. There are other VPN protocols available such as SSTP, L2TP, IKEv2, and PPTP, but OpenVPN is considered the most secure of all of them.
They also have a kill switch so that if your VPN connection is suddenly interrupted, you can quickly disconnect the Internet with one tap or click of the mouse. This way you can make sure that you are never on the Internet without VPN protection.
The service works well with Netflix and allows torrenting and P2P connections. We also like that UltraVPN has its own DNS servers. This means that the entire process is encrypted and your data travels through a VPN tunnel that is not easy to intercept by third parties, governments, or other organizations that want your data. We like the lengths that UltraVPN goes to in order to make your connection safe and secure.
There are many VPN providers out there that are bigger than UltraVPN, and we have reviewed all of them. By comparison, we are impressed by what UltraVPN has to offer in terms of speed, features, security, and performance. Even though it does not have an enormous number of servers, the ones that it does have perform beautifully and have a fast connection.
UltraVPN has many things that we like and few that we did not like. We like it's no logging policy, even though it operates in a country that is strict in terms of logging. We also like that it was easy to operate and has an interface that is easy to understand, even for beginners. It may not have the detailed configuration settings of other VPNs, but we did not find that was a deterrent in our rating. Overall, UltraVPN provided an excellent experience and for a much lower price than other providers.